Written By Basilio Chen
Interest rates have increased making business and the economy spiral into further uncertainty challenging social stability and resulting into more riots.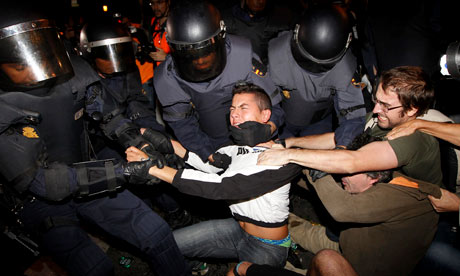 Spanish Ministers have said that €10bn (£8bn) of cuts and tax increases must come in next year's budget just to cover a leap in interest payments. Under the present plans, spending is to be cut by 7% next year, bringing another wave of cuts in health, education and other welfare services. Spain's civil servants received notice that, for the third year running, their wages were being frozen.  And if there is bank bailouts which has a good probability of ocurring, it would be paid for by the eurozone rescue fund, but tagged to Spain's further debts which would soar by another €50bn.
Cut and spending freezes and continuing debt is taken by people as serious effect on their livelihood.  We expect more of this unpleasant situations to continue.
As Spaniards respond with dismay to the violence shown by demonstrators, who launched attacks on police, and the response of some riot police, during scuffles in the area around Madrid's parliament building 2 weeks ago, the long-running drama of the country's deflating economy has lurched into a newly confrontational stage, amid fears that there will be more violence to come.
Reportedly, the police and the conservative government of prime minister Mariano Rajoy were accused of authoritarian behaviour, radical protesters from both the far left and the far right were putting a hard, street-fighting edge on to the once peaceful protests of the civilised.
A story of a 72-year-old man depicts the controversial situation.  He was among some 30 demonstrators who had been accused of attacking police and given bail. "But I was sitting down when they arrested me," he said.
Being Eurozone 4th largest economy, Spain social and economic uncertainty can cause severe shocks to the EU in addition to the present burden.
Here a large rally was organized as a peaceful rally but after midnight it entered a challenging stage when rally protesters ignored prohibition for the time extension and defying authorities.